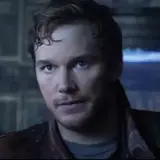 The first trailer for the Marvel Studios film Guardians of the Galaxy debuted late last night on Jimmy Kimmel Live! with star (Lord) Chris Pratt chaperoning, and today it became the hot topic of discussion on social media as thousands upon thousands of people were introduced to the "Avengers in Space" troupe for the first time.
Guardians of the Galaxy is the second Marvel Cinematic Universe Phase 2 film to be released this year and first Marvel Studios live-action film to be set almost exclusively in outer space. It features an unlikely team of five intergalactic misfits and hooligans that include a walking tree, Groot (voiced by Vin Diesel), and an abrasive trigger-happy rodent called Rocket Raccoon (voiced by Bradley Cooper). If the latter works then Guardians of the Galaxy could turn into a surprise hit of the summer, though we'll have to wait until at least the next trailer to hear Rocket speak a line. If the raccoon fails to connect with audiences and comes across as gimmicky then Marvel's experiment into more edgy comedic fare that also includes a line "what a bunch of a-holes" and a middle finger flip could turn into their first misfire.
The trailer paints a universe far removed from that of The Avengers where The Collector, as seen in the mid-credits sequence of Thor: The Dark World, serves as the only known link (that could change once the final film is watched). With Guardians of the Galaxy the final film before next summer's The Avengers: Age of Ultron, it is expected that the film's final act will tie into Earth, the villain Thanos, or some combination of both.
Also starring in Guardians of the Galaxy are Zoe Saldana as Gamora, Dave Bautista as Drax the Destroyer, Chris Pratt as Peter Quinn aka Star Lord, Lee Pace as Ronan the Accuser, Karen Gillan as Nebula, Benicio Del Toro as The Collector, Michael Rooker as Yondu, John C. Reilly as Rhomann Dey, Laura Haddock as Meredith Quill, Glenn Close as Commander Rael, and Djimon Hounsou as Korath the Pursuer.
Guardians of the Galaxy is co-written and directed by James Gunn and will aim to hit box office gold when it unspools into theaters on August 1.