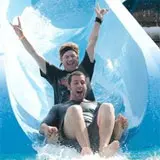 Sony's low brow comedy Grown Ups starring Adam Sandler, Kevin James, Chris Rock, David Spade and Rob Schneider won the battle of the newcomers on Friday with an estimated $14.5 million at the box office on its opening day. That total more than doubled the $6.35 million Fox's Knight and Day with Tom Cruise and Cameron Diaz put up on its third day.
The real story on Friday was Disney and Pixar's Toy Story 3 which easily won its eighth consecutive day at the box office with just over $18 million. That score puts it on pace for around $60 million through the weekend and a trip past $200 million overall by close of business on Saturday (the current cumulative total is $185.6 million).
I'll be traveling on Sunday so if you're offline most of the day, check back in the evening for Shawn's complete weekend box office totals.