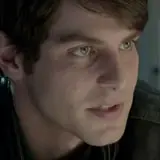 Last Friday, NBC's new fairy tale drama Grimm faced off against the first game 7 in a World Series in nearly a decade, as well as rival series Supernatural over on CW, and put up strong ratings numbers in its series premiere.
Now that the character introduction is out of the way and Nick (David Giuntoli) is realizing his destiny, Grimm is tasked with finding a groove and keeping the majority of its 6.5 million viewers that saw a Big Bad Wolf do big bad things. Though the World Series is done and gone, Grimm must now go head-to-head with Fox's Sci-fi drama Fringe, as well as Supernatural.
For its sophomore episode, Grimm sees Nick and partner Hank (Russell Hornsby) investigate a breaking and entering case only to discover there's more going on than the initial call suggests. Meanwhile, Aunt Marie (Kate Burton) is awake from her short coma and looks like Darth Vader without his mask on. She has much to tell Nick about his new role, and he in turn is now responsible for making sure she's not attacked again.
Below are five clips from tonight's Grimm that combined are a good chunk of an entire segment between commercials. Grimm airs at 9pm EST/PST on NBC.