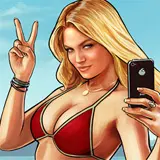 Rockstar's Grand Theft Auto 5 continues to live up to its "grand" name by passing $1 billion in retail sales in only 72 hours of release, according to estimates made by Rockstar.
Grand Theft Auto 5 set its first record when it sold approximately $800 million worth of Xbox 360 and PlayStation 3 games, including pre-orders, during its first 24 hours of release. The three-day short march to $1 billion crushes any previously held record in video games, and did so more than six times faster than the fastest Hollywood film to achieve the feat, Marvel's The Avengers in 19 days.
There's still room for Grand Theft Auto 5 to climb even higher. A PC version is expected to be released either late this year or early next year. There are rumors a PlayStation 4 version is on the way, and holiday sales will no doubt boost Rockstar's bottom line even more.
It took five years for Rockstar to release a new installment in the Grand Theft Auto franchise. Now the question is how much longer until the next one?