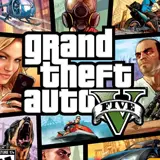 Since the inception of Rockstar's Grand Theft Auto video game franchise, millions of players have been clamoring for a persistent online world set in the GTA universe. With next month's delivery of Grand Theft Auto 5, those hopes and dreams become a reality with the introduction of Grand Theft Auto Online.
Rockstar has pulled back the veil of secrecy surrounding Grand Theft Auto Online and introduced the groundbreaking persistent online world via a trailer, which you can watch below. There's lots to love in this trailer including my favorite shot of someone driving a motorcycle off a cliff, then opening a parachute amongst a large group of other parachutists, presumably all live players in the world.
With Grand Theft Auto Online, Rockstar promises to carry forward the concepts of "freedom, ambient activity and mission-based gameplay" into an online world where players can meet up with friends to tackle missions, explore, or goof off together. Characters created in Grand Theft Auto Online are fully customizable and will earn cash and reputation in the online world, much as they would in the offline campaign.
Most importantly, the world of Grand Theft Auto Online will be constantly evolving and changing as Rockstar adds new content over time. Folks, this is the Grand Theft Auto experience we have all been waiting for, and it will be free to access and enjoy with Grand Theft Auto 5.
Grand Theft Auto 5 comes to Xbox 360 and PlayStation 3 on September 17.
Click here to pre-order Grand Theft Auto 5 at Amazon.com and earn the ability to pilot the Atomic Blimp as a special pre-order exclusive bonus for doing so.