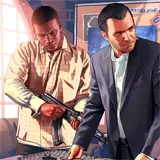 Rockstar's last Grand Theft Auto 5 trailer ended with a tease of a multiplayer mode that will fill the screen with players both on the ground and in the air, including piloting an attack jet. They promised details about the multiplayer mode would be released at a later date. That date is just around the corner.
This Thursday, August 15, Rockstar will release an all-new Grand Theft Auto 5 trailer dedicated to the game's multiplayer mode. In addition, the multiplayer mode features will be revealed as well as a series of previews from dedicated gaming outlets that have already experienced hands-on time exploring and experiencing the best and worst Los Santos has to offer.
The multiplayer reveal comes almost exactly a month before the game's September 17 release on Xbox 360 and PlayStation 3. Grand Theft Auto 5 standard and special versions are available for pre-order, with each including a special pre-order bonus to pilot the Atomic Blimp around the skies above Los Santos.