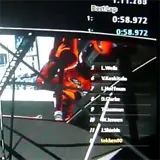 The Daytona International Speedway will be one of a couple Nascar-based tracks to appear in Sony's Gran Turismo 5 next week. A video of some Nascar racing action on this track, including a pit stop, has hit the web and is available for you to watch below.
The person who shot this Gran Turismo gameplay footage decided to use the behind-the-car perspective rather than the favored cockpit view by drivers looking for more of a simulation than arcade-style racing action. Once the car hits the pits, the perspective changes to cockpit as some quick maintenance decisions are made and the pit crew comes out to do their work. Pay close attention as they change the tires; the car actually jacks up. That's the kind of attention to detail that Gran Turismo faithful love to see.
Gran Turismo 5 is such a huge game it requires a 6.4GB download the first time you put it in and upwards of another 4GB as you play. You can read about that here.
Click here to pre-order and secure your copy of Gran Turismo on Playstation 3 at Amazon.com, sure to be a big seller during Black Friday week as it hits stores on Wednesday, November 24.