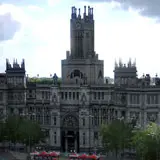 Following up on our look at Rome, Italy as it will appear in Sony's Gran Turismo 5 for PS3, here's a new series of E3 2010 screenshots that reveal Madrid, Spain, as well as some b-roll roll footage.
Half of the 8 screens highlight a few of the Gran Turismo rides including the BMW M5, Camaro Z28, Challenger RT and Corvette Stingray Convertible. The other half depict aerial views of Madrid that beg to be driven.
The b-roll footage leaves the city and visits the countryside where a couple BP signs are posted and one sequence where the sun is fast asleep.
> >