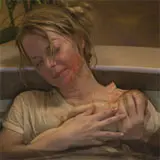 The Sundance Film Festival darling Grace is coming to Blu-ray Disc per an exclusive announcement over at Fangoria earlier this morning.
Anchor Bay will be publishing Grace simultaneously on Blu-ray Disc and DVD September 15. Blu-ray specs include 2.35:1 1080p video and 5.1 Dolby TrueHD lossless audio.
Blu-ray will include an exclusive audio commentary by writer/director Paul Solet and star Jordan Ladd while the remaining bonus features are shared between each format.
Audio commentary by writer/director Solet, producer Adam Green and director of photography Zoran Popovic
Grace: Conception featurette on the film's origins
Grace: Family featurette on the characters
Her Mother's Eyes: The Look of GRACE featurette on the movie's unique visuals
Grace: Delivered featurette on how challenges were overcome during principal photography
Lullaby: Scoring Grace featurette on the score and sound FX
Grace at Sundance featurette on how the film became a festival sensation
Theatrical trailer
In Grace, Jordan Ladd plays an expectant mother whose unborn child is killed in a terrible accident. The child is carried to term and delivered regardless, soon awakening after birth with a taste for blood.
Retail for the Blu-ray versions is set at $34.97. Cover art and Amazon.com pre-order information should be available in the coming weeks.
For more information on Grace, check out the August issue of Fangoria magazine which includes a feature story on the film.