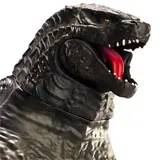 Godzilla, if you haven't heard, is back in a new film by visionary director Gareth Edwards (Monsters). The big guy turns 60 years old in 2014 and the new film is a return of sorts to the classic Kaiju films of the latter half of the twentieth century. Audiences everywhere are in for a breathtaking — and devastating — ride. We know, we've seen the film.
Accompanying The King of Monsters back to the silver screen is a tidal wave of new products that will give new fans and old plenty to play with, read, and snuggle with as this new Godzilla begins its path of destruction through the world of pop culture.
First off, publisher Insight Editions has created another spectacular companion "art of" book with Godzilla: The Art of Destruction. Author Mark Cotta Vaz has painstakingly pieced together an incredible visual masterpiece that chronicles the creation of the new film from concept to completion.
Godzilla: The Art of Destruction is broken down into three segments: Dreaming, which deals with the early concepts of the film; Conjuring, which focuses on the filmmaking process; and Creation, which brings it all together into the spectacle that it is. Each segment is stout with artwork and information and insight.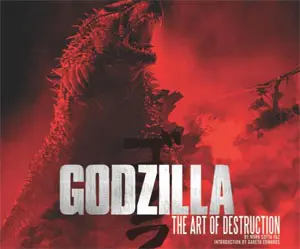 Director Gareth Edwards even writes the forward, and worked hand-in-hand with Vaz during the production of the book. Accompanying many of the photos and art work are pull quotes from the filmmakers, the actors, and the designers, giving readers an inside look at how a film like this comes together from early concepts to finished film.
The best, most interesting parts of Godzilla: The Art of Destruction revolves around the early concept designs for not only the King of Monsters, but of his enemy, the MUTO. Edwards, a noted fan of Kaiju films, was very careful that his new Godzilla pay homage to the original Toho creations from the 1950s, while still giving a new generation a monster of their own.
Some of the early Godzilla concepts range from classic Toho, to very dinosaur-like, to even — egads! — the iguana-thing from 1998's Roland Emmerich and Dean Devlin version that we now simply call "Zillah" to avoid any amounts of confusion (since we can't, you know, unsee Ferris Bueller battling a bunch of Zillah babies at Madison Square Garden).
The first part of the book contains artwork and scenes that layout a different opening to the film, and the 150-plus pages are full of amazing production stills, storyboards, matte paintings, and even 3D maquettes of all things Godzilla.
Godzilla: The Art of Destruction even shows how the now-legendary 2013 San Diego Comic Con fan event came about. Vaz has definitely crammed this book with tons of wonderful content and each image is beautifully striking on the page. The book is a must have for fans of Godzilla and fans of "Art of" books.
Other published books hitting store shelves include the film novelization, by Greg Cox, and the graphic novel, called Godzilla: Awakening by Max and Greg Borenstein, with art by Eric Battle, which serves as a prequel to the film. Godzilla: Awakening is published by DC Comics.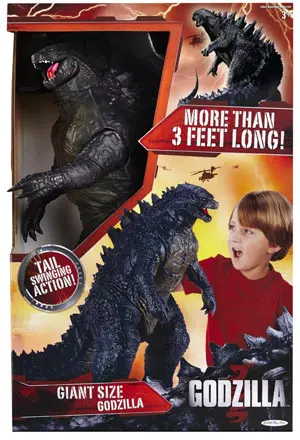 Godzilla also attacks toy shelves with a new line of figures and playsets from the new film by Bandai. There are multiple versions of Godzilla, each with action gimmicks like tail swats and fire breath.
Jakks Pacific has released a massive, 43″ (that's three foot, seven inches!) from tip to tail action figure of the King of Monsters. This is one of the biggest domestic Godzilla toys ever, and is wonderfully sculpted and detailed, and has some great articulation. This toy feels like an updated version of the classic Shogun Warriors Godzilla that Mattel released back in 1979. My G.I. Joes don't stand a chance.
NECA toys will have a line of Godzilla action figures in June, and Toy Vault has a line of plush dolls based off of Godzilla and the MUTO.
For 60 years, Godzilla has thrilled audiences worldwide, and he is poised to once again take his spot atop the Kaiju throne (Sorry, Pacific Rim). Watch out for our complete review of the film, and make sure to check out these new products. There is no better time to be a Godzilla fan.