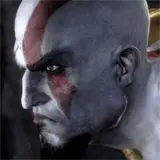 Sony used last night's 2008 Spike TV VGA Awards to reveal the first gameplay footage from God of War 3. Think short but sweet and you'll get the idea.
The sequel marks the first appearance of Kratos on Playstation 3 after his last outing on PS2 that feels like centuries ago. Literally nothing is known about the sequel other than what appears in this trailer.
The trailer sees Kratos take on a variety of new enemies including a cyclops and swarms of various drones. He also equips himself with massive gloves in the form of a wolf that are sure to inflict all kinds of damage.
God of War 3, exclusive to PS3 and confirmed to be a single-player game by Sony this morning, is expected in stores by the end of 2009.
Sony won't likely offer a more definitive time frame until E3 in June at the earliest. Check back later for some high-res screenshots snapped from this trailer.