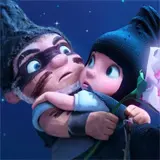 Those lovable little garden gnomes brought in nearly $100 million at the box office this past February and now look to find similar success on Blu-ray 3D, Blu-ray and DVD on May 24.
Powered by the voices of James McAvoy, Emily Blunt, Michael Caine, Maggie Smith, Jason Statham, Patrick Stewart, Stephen Merchant, Julie Walters and Dolly Parton, Disney's Gnomeo & Juliet comes to Blu-ray 3D in 1080 video and 5.1 DTS-HD Master Audio. The Blu-ray 3D package also includes the Blu-ray 2D version, DVD and a digital copy.
Unlike I Am Number Four releasing the same day on Blu-ray, Gnomeo & Juliet is back to the brim with Blu-ray exclusive and non-exclusive bonus features. The complete list with exclusives noted is as follows:
BD Exclusive: 2 Alternate Endings
BD Exclusive: 6 Deleted and 2 Alternate Scenes
BD Exclusive: 'The Fawn of Darkness' – Ozzy Osbourne's mumblings about voicing a deer
'Elton Builds a Garden' featurette
Frog Talk with Ashley Jensen
'Crocodile Rock' music video featuring Nelly Furtado and Elton John
Click here to pre-order Gnomeo & Juliet on Blu-ray 3D for $34.99 at Amazon.com.