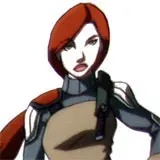 Update: Trailer added below.
Hasbro has laid out the cross-media master plan for rolling out the new GI Joe Resolute cartoon. The catch? It starts *tomorrow*.
The first indication GI Joe Resolute was coming this month came courtesy of Adult Swim adding it to their programming calendar that popped up online. Hasbro has now verified that information with a formal press release. GI Joe Resolute will air in its entirety on April 25 at midnight on the Cartoon Network.
When Hasbro first debuted GI Joe Resolute on the convention circuit they seemed fairly confident the series would premier on the Internet. And it will. Starting tomorrow, April 17, the first 5 minutes of GI Joe Resolute will debut at Adultswim.com.
A new 5-minute segment will air every day at AdultSwim.com building up to the Cartoon Network finale of the entire series previously aired on the Internet plus the final 10 minutes. Once that airs, the complete GI Joe Resolute "movie" will be available at Adultswim.com.
"Hasbro developed the animation with executive producer Sam Register as well as a powerhouse creative team at Titmouse Studios including Joaquim Dos Santos, a veteran animation director, who worked closely with award-winning comic writer Warren Ellis, who penned the entire series. This highly regarded team brings an edgy, intense feel to the series, which will feature the most popular characters in the G.I. JOE vs. COBRA canon. Iconic characters such Duke, Snake Eyes, Scarlett and Roadblock will do battle with Cobra Commander, Destro, Baroness and Storm Shadow."