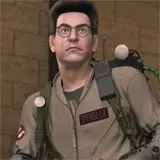 It feels like the 80s all over again and one big reason is the growing attention Ghostbusters is receiving. The original movie debuts on Blu-ray Disc June 16 day-and-date with a new next-gen game from Atari. New movie tidbits are coming out on a nearly weekly basis. There's no stopping the Ecto-madness!
Now that you've got Ghostbusters on the brain check out the latest game trailer for the PS3 and Xbox 360 version of Ghostbusters: The Videogame. This one is titled "Rule #3: Split Up" and in simple terms shows the 'Busters busting up ghosts, buildings and anything in their path.
Ghostbusters: The Videogame will also be available for Wii, PC, PS2 and Nintendo DS. The version you'll want to grab before any other is PS3 or Xbox 360 because frankly, they are as close to experiencing real Ghostbusting as you're going to find.