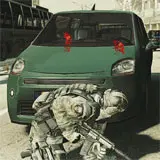 Ubisoft's Tom Clancy's Ghost Recon: Future Soldier deploys into stores today and brings with it a vast arsenal of weapons and cool tech to help it stand out in a crowded field of shooters.
To help introduce you to what helps set Ghost Recon: Future Soldier apart from the pack, Ubisoft has released the following "Tech" trailer. Take a peek below for the lowdown on optimal camo for all situations, drones of all sizes, sensor grenades, a massive selection of guns, and the mammoth warhound.
I personally dig the little spider drone walking down the stairs. Remember the movie Runaway starring Tom Selleck? This drone sneaking around reminds me of the assassin robots in that flick.
Ghost Recon: Future Soldier is available for Xbox 360 with Kinect support, Playstation 3 and the PC.
Click here to buy Ghost Recon: Future Soldier with free shipping at Amazon.com.