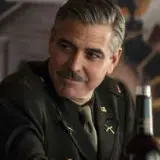 George Clooney recently came to the difficult conclusion that he and his filmmaking team would be unable to complete The Monuments Men to the high standards Clooney wants to achieve. As such, the period film about a team of experts stealing back stolen works of art from the Nazis before they are burned and destroyed has been delayed from its December opening into the first quarter of 2014, most likely February.
In speaking with the L.A. Times, Clooney admitted that he and producing partner Grant Heslov realized the visual effects on the film would not be complete before the December opening. "If any of the effects looked cheesy, the whole movie would look cheesy," Clooney claimed, citing his knack for perfection. "We simply don't have enough people to work enough hours to finish it."
The comments were made during the beginning of a 16-hour scoring session on the film with composer Alexandre Desplat. Not only were the visual effects incomplete, but the score had yet to be recorded as well.
Clooney and Heslov's decision to seek a delay came two days ago when they first arrived in London for the scoring session. They realized completing the film on time was an impossible task and decided to reach out to distributing partners Sony and Fox (overseas distribution) to seek an extension. The calls were placed earlier this morning, and a few hours later, both studios agreed to the delay.
There had been talk that The Monuments Men would be an Academy Award contender early next year. Now with the delay it will be ineligible for the big awards show.
I personally saw it as more of a fun throwback to the ensemble films of old such as the original Ocean's 11 and The Dirty Dozen. If Clooney can achieve that type of camaraderie and fun then the film should perform well despite not being nominate for a small golden trophy.
The Monuments Men stars Clooney along with Matt Damon, Bill Murray, Jean Dujardin, John Goodman and Cate Blanchett.
"It wasn't going to be finished, and I wouldn't want to have my name on it," Clooney added. "You don't want it to look like a film that was all done in the computer." I couldn't agree more.
Source: L.A. Times