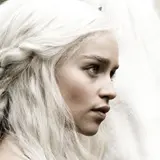 This morning HBO surprised no one by officially renewing their new fantasy series 'Game of Thrones' for a second season.
The renewal order comes less than two days after 'Game of Thrones' premiered and ran across the full spectrum of HBO channels. Though HBO is not discussing what the first airing of the premiere episode attracted in ratings, they did announce multiple airings on Sunday night for the main HBO channel reached 4.2 million total viewers.
Yesterday Vulture reported that 'Game of Thrones' drew a 1.6 rating in its first airing in the 18-49 demographic. By comparison, the series premiere of HBO's Boardwalk Empire drew nearly double at 2.8.
In the defense of 'Game of Thrones,' its medieval fantasy world has less broad appeal than the gangster land of 'Boardwalk Empire.' 'Game of Thrones' was also up against the NBA playoffs which many people would rather watch live and save 'Game of Thrones' on the DVR for another night.
If you missed the 'Game of Thrones' premiere, you can watch the first 14 minutes as well as multiple trailers here.