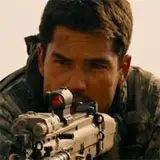 D.J. Cotrona's Flint has been one of the most mysterious characters in Paramount's upcoming sequel/reboot G.I. Joe: Retaliation. It seems as if every other Joe character has been given moments to shine in the various trailers and spots, while Flint has been relegated to popping up in a background here and there.
Paramount's International arm has put together a neat little trailer for Flint that shows off the character's unique fighting style heavily influenced by Parkour. Flint's got some serious moves and looks to put them to use against Cobra's infantry troops when they least except him to.
There are a couple other notable moments in the following Flint-centric trailer. There's a scene where Flint is unzipping the dress worn by Lady Jaye (Adrianne Palicki). These two are an item in G.I. Joe lore so it's great to see that "spark" carry forward into the live-action universe.
And while somewhat spoilery to those not familiar with past iterations of G.I. Joe, the scene where Flint delivers the line "Merry Christmas" clearly shows unmasked Storm Shadow (Byung-hun Lee) hanging out with the Joes. It has been widely rumored that Storm Shadow would turn against Cobra at some point in the film due to the influence of Snake Eyes, Jinx, and most importantly the Hard Master. This scene seems to confirm that. Whether he remains "turned" or not by the film's conclusion remains to be seen.
G.I. Joe: Retaliation is directed by Jon M. Chu and also stars Dwayne Johnson, Bruce Willis, Channing Tatum, Ray Stevenson, Ray Park, RZA, Elodie Yung and Jonathan Pryce. It opens in theaters everywhere in 3D and 2D on Thursday, March 28.