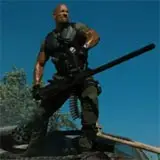 Last night, Dwayne "The Rock" Johnson introduced the first trailer and footage from Jon Chu's sequel G.I. Joe: Retaliation, then proceeded to become the new face of the franchise by the trailer's conclusion.
Chu, along with screenwriters Rhett Reese and Paul Wernick, have been promising a sequel more true to the previously established G.I. Joe brand. Unlike G.I. Joe: The Rise of Cobra which took many creative liberties, especially in the depiction of terrorist organization Cobra's leader, Cobra Commander (played by Joseph Gordon-Levitt).
G.I. Joe: Retaliation looks to take the G.I. Joe: Renegades narrative path in which the Joes are framed and hunted by the Cobra-controlled government. Most of the Joes from the original film are apparently killed off in a nighttime aerial strike (goodbye Marlon Wayans, Adewale Akinnuoye-Agbaje, Dennis Quaid, Said Taghmaoui, and unfortunately Rachel Nichols), while the remaining Joes – and new castmembers – including Roadblock (Dwayne Johnson), Lady Jaye (Adrianne Palicki) and Flint (D.J. Cotrona) go into hiding.
Where the G.I. Joe: Retaliation trailer is winning over fans of the franchise is in its willingness to adhere to the source material. Imagery of Cobra troopers raising a Cobra flag over the White House is the type of thing you'd expect to see in the 1980s cartoon. Cobra Commander looks to be back, and wearing his iconic chrome mask absent from Rise of Cobra. There's a hovercraft, jet and tank that resemble the Whale, Rattler and HISS tank toys from the 80s. There's a lot for Joe fans to get excited about.
G.I. Joe: Retaliation also stars Bruce Willis as Joe Colton, Channing Tatum as Duke, Ray Stevenson as Firefly, Elodie Yung as Jinx, Ray Park as Snake Eyes, Byung-hun Lee as Storm Shadown, and Joseph Mazzello as Mouse. Look for it in theaters on June 29, 2012.