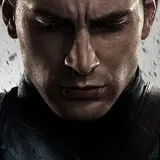 When the first full trailer for Captain America: The First Avenger hit the web last night, it did so on YouTube in a less-than-ideal resolution. It looked great regardless, but looks even better when viewed in full 1080p high definition.
I've taken the liberty of snapping some screen caps from the HD Captain America trailer for a few scenes that come and go in a flash. If you pay close attention to the trailer and the scene surroundings, you can roughly piece together the chronological order of the action sequences. Pay special attention to the ceiling where the Hydra soldiers are gathered and see how many other scenes that same ceiling appears in.
The next Captain America: The First Avenger trailer should theoretically be attached to Marvel's Thor in early May. Not only does it make logical sense to attach it to Thor for obvious reasons, but that time frame also marks roughly two months until Captain America's July 22 release date.
Click on any of the Captain America screen caps below to view them in high resolution. Download and watch the Captain America trailer in full 1080p at Apple.