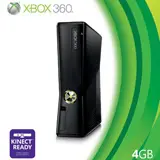 Microsoft has schemed up a "school's out" deal for students needing some new hardware as summer gets underway, or students that want to get the jump on prepping to attend college in the fall.
Starting May 22, any student attending high school or a college/university that purchases a new Windows PC with a price tag of $699 or above will receive a free Xbox 360 4GB console. The offer begins May 22 and is only good while limited supplies last.
The way it works is a student with a .edu email address would visit Dell.com, HP.com or the Microsoft Store to purchase their new Windows PC. It seems like a staff member with a .edu email address could get in on this deal as well, assuming their morals don't get in the way.
Could Microsoft be gearing up to announced a new Xbox 360 sku or are they just clearing out inventory of the 4GB models? Most likely the latter, especially with the 250GB model offering so much more storage space.