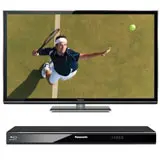 Online retailer Amazon.com has put together a Panasonic 3D TV and Blu-ray deal as part of their Cyber Monday 2012 Week sales.
The promotion awards a free Panasonic DMP-BDT220 integrated wi-fi 3D Blu-ray DVD Player with the purchase of one of three Panasonic Viera 3D televisions. The Blu-ray player currently sells for $99 at Amazon so it's the equivalent of getting $100 off your order.
Each of the Panasonic 3D TVs in this promotion are part of the Viera line, are 50″ big, and have a rating of at least 4 out of 5 stars from Amazon's shoppers. The most expensive model is the Panasonic VIERA TC-P50GT50 50-Inch 1080p 600Hz full HD 3D plasma TV for $1139.38. This is a high-end set with a 4.5 out of 5 star rating.
The other two televisions are the Panasonic VIERA TC-P50UT50 50-Inch 1080p 600Hz full HD 3D plasma TV for $799, and Panasonic VIERA TC-P55UT50 55-Inch 1080p 600 Hz full HD 3D plasma TV for $999.
Again, purchasing any of these sets awards the $99 Blu-ray 3D player for free, and each includes free super saver shipping. You must go through the link below to the official offer page at Amazon.com to take advantage of this deal.
Browse or shop Amazon's Cyber Monday Week free 3D Blu-ray player with 3D TV purchase deal.