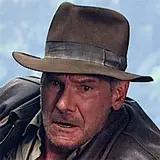 Indiana Jones 5 chatter soared earlier this week when Shia LaBeouf let slip during an interview with BBC for Transformers: Revenge of the Fallen that Steven Spielberg had recently "cracked" the film's story.
Shia has no reason to throw out a false rumor of that magnitude so everyone naturally believed it. Now none other than Frank Marshall has stepped forward to add additional confirmation.
Per an exclusive interview with Marshall at Empire, the mega-producer stated all parties involved are working towards moving into production sooner rather than later, mostly for age reasons. "Yeah. We had a great time making the last one and, as Harrison said, we need to make this one soon. We're not getting any younger."
As for Spielberg's big idea, well, Marshall has not heard it yet. "Until there's a script, nothing's definite. I haven't heard the idea." This makes me wonder if George Lucas has heard the idea, or how involved he was in it. Most pundits of Crystal Skull, myself included, would prefer he sit this one out.