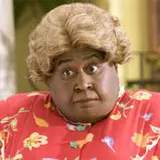 Big Mama is coming back for a third go around at stomping her way into other people's business in the name of law and order.
Per Variety, Fox has hired Mrs. Doubtfire scribe Randi Mayem Singer to pen a script for Big Momma's House 3. Both comedy films dealing with men dressed up as older women are probably what helped Singer land the gig.
Martin Lawrence is presumed to return and spend half of his working day sitting in a prosthetics make-up chair. When production will begin, and under which director, are still unknown.