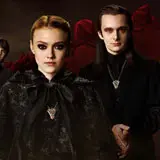 Summit Entertainment is kicking their The Twilight Saga: New Moon promotional campaign into high gear with the release of three new theatrical one-sheet movie posters and a larger wide display poster.
The original teaser poster with Taylor Lautner, Robert Pattinson and Kristen Stewart has been replaced with a Cullen family shot, a Volturi Wolf Pack image and a Volturi clan collage. Dakota Fanning and Michael Sheen also appear on the wide poster opposite the artwork from the teaser poster. Aside from the Wolf Pack actors and Cullen family shots, all the images have appeared previously in various promo stills.
The Twilight Saga: New Moon releases on November 20. Filming is already well underway on The Twilight Saga: Eclipse, the third of four films in the series.
Click any of the posters below to view high resolution versions.