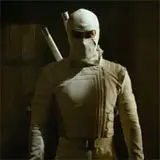 Beginning this weekend, in select IMAX 3D theaters, prints of Hansel and Gretel: Witch Hunters will include a special four-minute preview presentation of G.I. Joe: Retaliation. During the press screening of Hansel and Gretel, I was able to see the new footage inspired by the famous "Silent Interlude" in issue #21 of the original Joe comic and I really liked what I saw. If you plan to see Hansel and Gretel this weekend, and would like to be surprised, I suggest you stop reading now.
Still here? Good. Here we go.
Dwayne Johnson, who plays Roadblock in the new film, introduces the footage and it opens focusing primarily on Storm Shadow and Snake Eyes, as it should.
In a mountain retreat, a nearly naked Storm Shadow (Lee Byung-hun, reprising his role from 2009's G.I. Joe: Rise of Cobra) is getting dressed and strapping on his katanas, throwing stars, Sais, and other neat tools of ninja destruction. Once fully dressed and ready to go, Storm Shadow steps into a hallway, where Snake Eyes (Ray Park, also reprising his role), his longtime Arashikage clan brother under the tutelage of the Hard Master, is waiting for him. And as happens when these two get together, a fight erupts.
Snake Eyes is armed with an UZI sub-machine gun and Storm Shadow counters with throwing stars. The 3D really pops here, and director Jon Chu effectively uses slow motion to really show these two ninja masters at the top of their game.
Once the initial stand off is resolved, the fight evolves into a combination of hand-to-hand martial arts and swordplay. The fight is well choreographed and it is easy to make out what is happening. It spills out of the hallway as both men crash through a window and land outside in the snow.
More hand-to-hand ensues before Storm Shadow seemingly gets the upper hand. But, before he can kill Snake Eyes, another ninja appears and uses a taser-like weapon to knock out the white-clad warrior. This new ninja is dressed in Kamakura, a long time G.I. Joe member's (and Arashikage clansman) colors, but it is evident that it is a young woman, which leads me to believe that it is Jinx (Elodie Yung). Jinx and Snake Eyes quickly wrap Storm Shadow in a body bag for transport just as a small army of red-clad ninjas appear. Snake Eyes throws the bag containing Storm Shadow over the side of a bridge, and as the red ninja swarm, he and Jinx jump over as well.
What follows here is a crazy chase scene filmed literally above, and on the side, of a mountain. Snake Eyes and Jinx, along with the bagged Storm Shadow, fly through the air on ziplines and run across sheer rock face using rappel lines, and the red ninjas follow attacking when they can with katanas. This is footage that has been previously seen in most of Retaliation's trailers. The action is fast and exciting and well filmed. The 3D is outstanding in this part of the footage, and really makes a case for G.I. Joe: Retaliation to be viewed in 3D. This is important as Chu did not film the movie in native 3D and the effects were added in post-production, which delayed the release almost a full calendar year. In fact, all of the 3D throughout worked for me to enhance, and not carry, what I was seeing, which is important to me. Good 3D should blend into the background after a few minutes and while the footage was only a few minutes long, I felt that it will do that once the full film is released in March.
Just as the footage seems to ramp up to some conclusion, it ends and a new trailer for the full film is revealed which plays a little Joe Colton (Bruce Willis) heavy.
As with most of the extended 3D IMAX footage runs, this taste truly leaves you wanting more. I was decidedly on the fence about Retaliation, for a variety of reasons (the first film was terrible after the first forty-five minutes, Chu is not a proven big budget action director, the screenwriters' last project was Zombieland – not really military/anti-terrorism stuff), but after these four minutes, I can say that I am on board, and I am on board for the 3D presentation.
Again, this footage is available at select 3D IMAX theaters and is attached to Hansel and Gretel: Witch Hunters. G.I. Joe: Retaliation hits theaters on March 29.