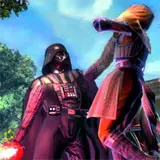 Yesterday's LucasArts release of a playable demo for Star Wars: The Force Unleashed on Xbox 360 and Playstation 3 has resulted in a surge of pre-order sales at online retailer Amazon.com.
As of this morning, Force Unleashed moved into the top 10 for Playstation 3 pre-orders (view complete list), all the way up to the number four spot. Only Madden NFL 09, Grand Theft Auto IV (newly discounted to $48.99) and Metal Gear Solid 4 are selling at a brisker pace.
On the Xbox 360 side, Banjo-Kazooie: Nuts & Bolts and Madden NFL 09 are the only games ahead of Force Unleashed (view complete list). In fact, Force Unleashed is outselling Too Human (read our review) and Gears of War pre-orders at this time.
If you haven't had a chance to check out our Force Unleashed screenshots including several snapped from the demo earlier this week, you can do so right here.
If you haven't downloaded the demo yet, what are you waiting for?