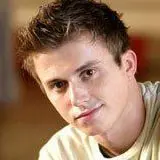 Paramount Pictures has issued a press release today that reveals the release date of the Footloose remake is April 1, 2011, and that casting for the film has been completed.
Writer / director Craig Brewer will direct MTV Dancelife's Kenny Wormald as Ren i.e. the Kevin Bacon role. Opposite Wormald will be Dancing With the Stars' Julianne Hough as Ariel to complete the blonde dancing duo. The supporting cast will include Dennis Quaid as Reverend Moore and Miles Teller as Willard.
"I can promise Footloose fans that I will be true to the spirit of the original film," said Brewer in the announcement. "But I still gotta put my own Southern grit into it and kick it into 2011. It's going to be a blast!"
Here is are your Footloose dancers.