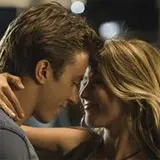 Footloose busted a strong enough move at the box office on Friday to take first place in its debut, but is pacing behind where Paramount Pictures would like it to be.
Opening on 3,549 screens, Footloose earned $5.56 million Friday and is estimated to earn around $16 million through Sunday. Estimates leading up to the debut had it finishing above $20 million, so this isn't the start Paramount had in mind for the remake starring Julianne Hough and Kenny Wormald.
For comparison's sake, the original Footloose in 1984 opened on roughly one-third of the screens as the remake, when ticket prices were on average less than half of what they are today. It still managed over $8 million its opening weekend.
Second place on Friday went to holdover Real Steel starring Hugh Jackman. The boxing drama punched out $4.5 million and is on pace to wrap the weekend around $14 million.
Universal's prequel/remake of The Thing seemed to lure the franchise's loyal fanbase and that's about it. A $3.2 million opening Friday means a weekend total that will struggle to reach the $9 million mark. The Thing will have to hope for more scares when it reaches Blu-ray and DVD in early 2012.
George Clooney's The Ides of March brought in $2.25 million on Friday for fourth place, while Moneyball with Brad Pitt slid into fifth place with $1.7 million.
The final newcomer this weekend, Fox's The Big Year, turns out to be a big flop. Its $1.15 million opening day guarantees a sub-$5 million opening weekend and exit from the top 10 by next weekend after finishing in 8th place.
We'll share the full weekend box office studio estimates and analysis on Footloose and more tomorrow afternoon.