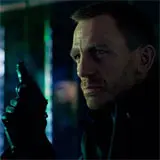 The first Sam Mendes videoblog from the set of Skyfall, the third James Bond 007 film starring Daniel Craig now in production, hit the web this morning.
A calm Mendes, almost too calm considering he's calling the shots on a 007 flick, talks about how he has been groomed to direct a James Bond film since childhood and how big a fan of Casino Royale he is. Quantum of Solace gets no love from the director as he's more interested in the Sean Connery "realistic" Bond portrayal that Casino Royale reminded him of.
Sprinkled around Mendes chatting in a chair are some glimpses of the production currently underway in England. You don't get to see much other than a peek at an on-location set here and here, and one shot of Daniel Crag as Bond sneaking around a dark area with ambient neon lighting.
Skyfall is set to touch down in theaters on November 9.