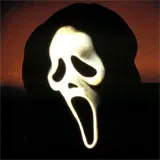 The core Scream movie team consisting of director Wes Craven, screenwriter Kevin Williamson, and actors Neve Campbell, Courteney Cox and David Arquett are all gearing up to begin shooting Scream 4 starting in June.
Entertainment Weekly spoke with Wes Craven about Scream 4 and go their hands on the first teaser poster that confirms an April 15, 2011 release date. Though Craven remains relatively tight-lipped about plot details, he does offer a time line for where the film falls and what's become of Sid since Scream 3.
There have been 10 years of no Ghostface, but there has been the movie-within-a-movie Stab, Craven says. "We have fun with the idea of endless sequels, or "sequelitis" as Kevin calls it in the script. Sid goes through these three horrendous things, and Stab was based on those horrible things. And then they've been taken by a studio and run into the ground in a series of sequels. She has been off by herself and living her own life, and she's even written a book that has gotten a lot of critical acclaim. She's kind of put her life back together in the course of these 10 years. But, certainly, there would be no Scream without Ghostface, so she has to confront him again, but now as a woman who has really come out the darkness of her past."
Craven goes on to all but promise an R-rating for Scream 4 and integration of the core cast with a new group of teenager death fodder. The film will shoot in Michigan rather than California where its predecessors were filmed, but at least one setting will remain the fictional town of Woodsboro.
Should Scream 4 prove a success, Craven is signed on for as many sequels as Dimension can crank out.