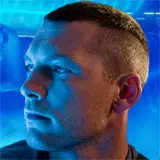 The international arm of Fox's publicity department has begun circulating the first official image from James Cameron's Avatar.
The first image shows Sam Worthington as crippled ex-Marine Jake Scully standing in front of a bluish chamber that houses his Avatar, the alien "vessel" he'll put his mind into. You can click this one to enlarge and get a better look at the Avatar.
The second pic is yet another look at James Cameron holding a really expensive camera filming what are likely actors against massive green screens.
In addition to the new pictures, Apple.com has launched a countdown clock for when they will debut the first Avatar trailer online head of its theatrical bow. A little math determines the trailer will appear this Thursday at 7am PST.
The same Avatar footage that appeared at Comic-Con with at least one new scene will begin playing in select theaters and IMAX exclusively in 3D starting this Friday, August 21.