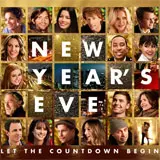 The first full trailer for Garry Marshall's New Year's Eve is here and boasts the film equally huge cast as its popular and profitable predecessor, Valentine's Day.
Before anyone who saw Valentine's Day gets confused, let's clear the air here about recurring actors and their roles. Yes, Ashton Kutcher and Jessica Biel both starred in that film and appear in New Year's Eve as well. They are not, however, playing the same characters. In that respect New Year's Eve isn't a sequel as much as a similarly themed film. Too bad Groundhog Day has already been done.
Along with Biel and Kutcher are a who's who of Hollywood actors including Halle Berry, Jon Bon Jovi, Abigail Breslin, Chris "Ludacris" Bridges, Robert De Niro, Josh Duhamel, Zac Efron, Hector Elizondo, Katherine Heigl, Seth Meyers, Lea Michele, Sarah Jessica Parker, Michelle Pfeiffer, Til Schweiger, Hilary Swank and Sofia Vergara. That doesn't include any cameos of which there should be several.
New Year's Eve should be a big hit when it drops into theaters on December 9.