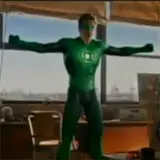 Next Friday the first trailer for Warner Bros. The Green Lantern will be attached to Harry Potter and the Deathly Hallows Part 1. In a nice surprise, Entertainment Tonight aired a preview for the trailer that contains quite a bit of footage.
The Green Lantern trailer tease is full of Ryan Reynolds wearing the all-CGI suit. It also features Blake Lively, the Green Lanterns' home world of Oa, and a close encounter with another member of the Green Lantern Corps.
ET promises more on The Green Lantern will be revealed in Tuesday's episode. This teaser already shows a lot so it's hard to imagine much more new footage being revealed prior to the trailer's debut with Potter.