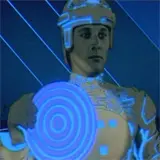 We have known since last fall that Disney is hard at work restoring the original 1982 Tron for Blu-ray Disc and that it would be released alongside Tron: Legacy on Blu-ray in either March or April of this year. While the Tron Blu-ray announcement is still a little ways off, I do have a little treat right off the grid to share this morning.
Below is what will likely (though not 100% certain as the design could change before release) be the Blu-ray cover art for Tron: The Original Classic. From the cover you can see that Disney will be packaging Tron on Blu-ray with the DVD version and that it has been labeled a "special edition" release.
I can't get into specifics right now as to what warrants Tron brandishing the "special edition" tag. I can say that Disney is taking this catalog release seriously and is expected to be packing it with multiple hours worth of bonus features, some of which are all-new.
Check out the Tron Blu-ray cover art below and be on the lookout for a similar update regarding Tron: Legacy in the very near future.