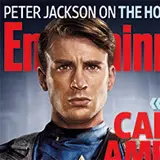 The new cover of Entertainment Weekly reveals a first look at Chris Evans in his Captain America gear from the waist up as he'll be seen in Marvel and Paramount's Captain America: The First Avenger. Evans is wearing essentially the same outfit we saw in concept art form months ago and has the signature side-parted hair. Keep in mind this is the 1940s outfit and it will likely evolve by the time of The Avengers, if not by the end of the film.
In the accompanying article Evans talks about rejecting the role of Captain America three times based on being scared of playing the character."I realized my whole decision making process was fear based, and you never want to make a decision out of fear," Evans said. "I can't believe was almost too chicken to play Captain America." It was Joe Johnston's plans for the film that eventually dazzled him into accepting a six-picture deal.
The article also confirms that Red Skull (Hugo Weaving) will use The Tesseract (i.e. The Cosmic Cube) in his bid for world domination. It stops short of telling us when the first teaser trailer is due.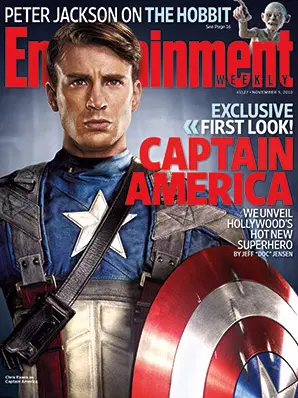 Source: EW