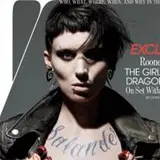 There's a fantastic article in the new issue of W magazine that reveals the first official images of Rooney Mara as Lisbeth Salandar in David Fincher's American version of The Girl With The Dragon Tattoo, as well as some insight into the production and casting process.
One look at these two images of Mara as Lisbeth and it's clear Fincher knows what he's doing with this American adaptation of Stieg Larsson's Millennium trilogy. She has been completely transformed and looks nothing like she looked in A Nightmare on Elm Street or The Social Network. Even Noomi Rapace, who played the part brilliantly in the Swedish films, would probably be pleased with how Mara looks.
The article reveals that Mara was not convinced she could handle the part despite wanting badly to play it after locking herself in a room to read all three books consecutively. Her competition for the role was Scarlett Johansson (Fincher called her "too sexy"), Carey Mulligan, petite Ellen Page (who shot her own screen test to try to "wow" Fincher), and Black Swan's Natalie Portman (who unsuccessfully attempted to purchase the film rights).
The Girl With The Dragon Tattoo is currently in production and stars Daniel Craig as Mikael Blomkvist, Rooney Mara as Lisbeth Salandar, as well as Christopher Plummer, Stellan Skarsgard, Joely Richardson, Robin Wright, Steven Berkoff, David Dencik and Alexandra Daddario. Fincher directs with The Social Network's composers Trent Reznor and Atticus Ross back to score. It hits theaters on December 21, 2011.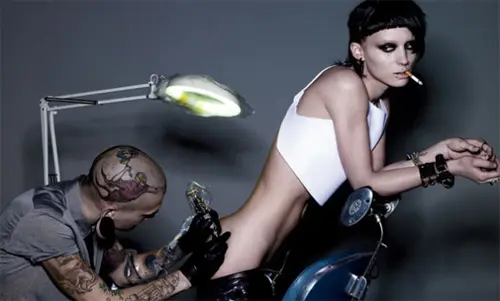 Source: W Magazine