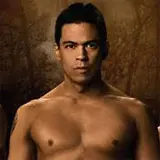 Twilight New Moon director Chris Weitz demanded that his werewolf actors prove their Native American or First Nation ancestry with official paperwork. He also demanded they be physically fit and willing to bulk up even more.
USA Today's first official images of the New Moon "Wolf Pack" shows all four actors sans shirts together for the first time. Taylor Lautner aka Jacob is notably missing so you'll have to wait to see how his round the clock workout regimen has paid off.
The Wolf Pack actors won't have to worry about how they'll fill out the roll once transformed into a werewolf. Weitz confirms the werewolves in New Moon will be all CGI with the actors eyes either left intact or digitally recreated onto their furry computer model alter egos.
Head on over to USA Today to read the bios for Wolf Packers Chaske Spencer, Alex Meraz, Kiowa Gordon and Bronson Pelletier.