USA Today has revealed the first image of Hugh Jackman and a robot fighter from Real Steel, the new Shawn Levy (Date Night) film that just began principal photography.
The robot you see below is physically there on-set for Jackman and the cast to interact with. "The moment of walking in and seeing these robots, my jaw was on the floor," said Jackman, clearly impressed by the 9 full-scale robots built for production.
Apparently the decision to mix the use of prop robots with motion capture during the boxing sequences was encouraged by none other than executive producer Steven Spielberg, one which Levy is completely comfortable with. "There are some things only visual effects can pull off," Levy says. "But when you give an actor a real thing, in this case a real 8-foot-tall machine, to interact with and do dialogue opposite, you get a more grounded reality to the performance."
Real Steel is the story of an out-of-work fighter (Jackman) and his estranged son who together salvage a junked boxing robot named Atom. Grooming Atom to fight in the World Robot Boxing league brings the father and son together, while flashes of intelligence in Atom prove the father and son are not the only ones forgotten in life.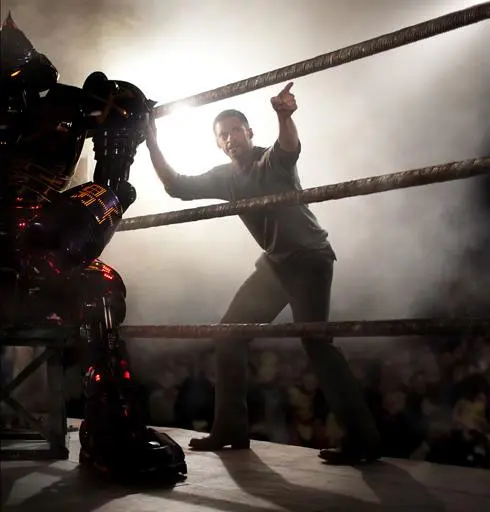 Read the entire story at USA Today