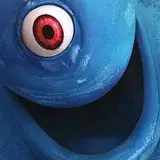 You don't have to burn many brain cells to figure out which recently released 3D films are prime candidates to appear in the first wave of Blu-ray 3D titles later this year. Yet up until the eve of CES no titles have been formally announced by any studio save for one from an unlikely source.
In unveiling its new line of high definition products, Samsung announced they will be directly offering Dreamworks' Monsters vs Aliens on Blu-ray 3D as authored by Technicolor (via Techland). The catch? You have to purchase a Samsung 3D HDTV (LED, LCD or Plasma), the newly announced BD-C6900 Blu-ray Disc player, and Samsung's active shutter 3D glasses. No package sale, no Monsters vs Aliens.
Had Samsung offered a release date for these products we would have a better idea as to when the first wave of Blu-ray 3D titles would hit. For now, the wait continues.