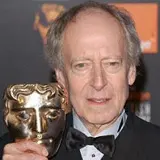 Sad news today in the world of cinema music. Composer John Barry passed away on Sunday at the age of 77 after suffering a heart attack in New York.
Barry's legacy in composing music for movies includes a quarter of Oscars earned for his work on Dances With Wolves, Out of Africa, Midnight Cowboy and Born Free. Barry's other eclectic works include the theme for Madagascar and its sequel, Howard the Duck and The Cotton Club, amongst many others.
What Barry will most be remembered for is the stamp he put on the James Bond franchise. He composed the scores and songs for a total of 11 Bond films including A View to a Kill , Goldfinger, From Russia With Love, You Only Live Twice, Octopussy, Thunderball, and On Her Majesty's Secret Service .
If you own a 007 movie collection on Blu-ray or DVD, be sure to pop in one of Barry's titles to salute a legendary film composer.