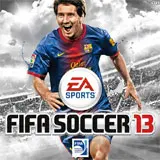 Online retailer is focusing on video games during an all-day Gold Box event that prefaces their transition into Black Friday and Cyber Monday-related deals that will kick off early next month.
Today's Gold Box Deal of the Day, good through all of today, is the EA Sports title FIFA Soccer 13 for only $39.99 on Xbox 360 or Playstation 3. This game usually sells for $49.99 at Amazon.com so the sale price today will save you $10. Plus, since it is over $25, it will be shipped via super saving shipping for free.
Click here to nab FIFA Soccer 13 for $39.99 or browse Amazon's Gold Box video game deals.
Lightning Deals related to video games will be popping up throughout the day as well. For example, right now The Elder Scrolls IV: Oblivion on Xbox 360 or Playstation 3 is on sale for $9.99. It's already 80 percent sold out and hasn't been up that long.
I will update this post throughout the day as new deals come online.