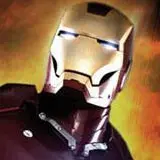 Director John Favreau took to Twitter this afternoon to inform his followers that USA Today has won the sweepstakes to debut the first official image snapped from the set of Iron Man 2.
Favreau indicates the image will appear this Friday, May 1. Based on previous USA Today exclusives the image could be up as early as Thursday evening. Either way I'll have my eyes peeled and will let you know as soon as I spot it.
Any guesses as to who or what will be in the image? I'm jonesing for something "new" like Michey Rourke or Scarlett Johansson in character. Watch it be Tony Stark in a suit flashing a grin.
Even if the image is of an Iron Man 2 branded water bottle it's hard not to get excited about "anything" coming from the Iron Man 2 production. All Favreau has to do is say "hi" on Twitter to get everyone's attention.
To recap this week's onslaught of movie and TV coolness:
Tonight: Lost's 100th episode
Tomorrow: Transformers: Revenge of the Fallen trailer
Tomorrow: District 9 trailer
Friday: GI Joe: The Rise of Cobra trailer
Friday: First image from Iron Man 2
Friday: X-Men Origins: Wolverine opens
For once the road to the weekend will be filled with geek-ridden joy!