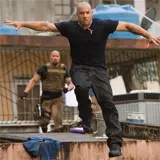 Someone in the marketing department at Universal Studios had the bright idea of debuting the first trailer for Fast Five aka Fast and Furious 5 on Vin Diesel's web page given the nearly 20 million people who "like it." At the time they didn't realize that Vin ran and updated his own page which has proven to be icing on the cake.
An actor or anyone associated with a big studio film has never premiered a film's trailer on their Facebook page so Vin is now officially the first. Even as I write this and the trailer completes its upload, the "likes" on his latest post are going up at a rate of several hundred per minute. His popularity reaching across a wide variety of races and demographics is amazing.
Head on over to Vin's Facebook page to enjoy the first trailer for Fast Five. I'll check back later with a link to the high definition version and some new images.