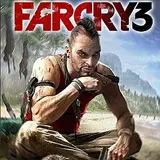 Those anxious for early access to Ubisoft's upcoming sequel Far Cry 3 will be delighted to learn that a multiplayer closed beta will run for two weeks this summer on Xbox 360 and Playstation 3. The exact dates of the beta are not known, but details on how to maximize your odds of scoring a beta key have been revealed.
First, let's confirm what the Far Cry 3 beta will entail. In the beta, up to 16 simultaneous players will get to duke it out as one of six playable classes. Multiple maps and modes will be available in the beta, though exactly which ones are currently being kept under wraps.
Many of the cool features you have seen in the Far Cry 3 trailer will be ready for use in the beta including combat sliding, zip-lining, barrel bombs and one of my favorites, psyche gas.
There's only one guaranteed way to gain access to the Far Cry 3 beta and that is by purchasing Tom Clancy's Ghost Recon: Future Soldier from GameStop and ensuring you are a GameStop PowerUp Rewards member. If you are, and you do buy the latest Ghost Recon, you will receive an invitation code that can be redeemed at www.gamestop.com/code beginning May 22. The actual beta key code will not be e-mailed until the beta is ready to launch.
An additional 500 beta keys will be available in a giveaway via Ubisoft's Facebook page. Even more codes will be distributed via Ubisoft's social channels including Ubi.com, farcrygame.com, and select community and media outlets.
The full version of Far Cry 3 for Xbox 360, PC and Playstation 3 will be available September 4.