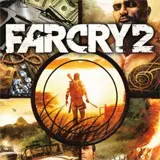 Just a few days ago, online retailer Amazon.com blew copies of the Xbox 360 exclusive Left 4 Dead out the door for under $40. The sale was a resounding hit as the game sat atop the bestsellers list throughout the day.
Now Amazon is back at it with another deal even sweeter than Left 4 Dead. For today only, Amazon has dramatically reduced the price of Far Cry 2, EndWar, The Last Remnant and Alone in the Dark.
Far Cry 2 for both Xbox 360 and PS3 has been reduced from $59.99 all the way down to $37.98, a 37% savings. The Xbox 360 and PS3 versions of EndWar have seen the same drop.
Square's The Last Remnant for Xbox 360 has been lowered to $44.98.
The biggest drop comes for Atari's Alone in the Dark, reduced to $11.98 for Xbox 360. That's a 70% price cut. The Wii version has been dropped to $9.98, or a 50% cut.
You can shop any of these titles all from this page, but remember, the sale ends when today ends!