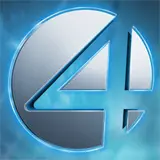 Fox's upcoming The Fantastic Four reboot project has been ignited to flame on after news broke yesterday that Michael B. Jordan, Miles Teller, Kate Mara and Jamie Bell have closed or are in the process of closing deals to star in the film from director Josh Trank. Of the group, Jordan and Mara have confirmed that they are indeed on board.
Michael B. Jordan's name was first attached to the project last year with no other real competition for the part of Johnny Storm / The Human Torch being mentioned in the trades. Jordan's breakout role was in the drama Fruitvale Station, however he also appeared as a young man with superpowers in Trank's breakout film Chronicle.
Miles Teller has been tapped to play Reid Richards / Mr. Fantastic, and will be charged with leading the group of newly formed superheroes. Teller will next be seen in Summit's Divergent, and though he just turned 27 literally today, Teller has numerous films under his belt including the Footloose remake and Project X.
Kate Mara will play Sue Storm / The Invisible Woman, who in the comics is the sister of Johnny Storm. Given the obvious racial discrepancy between Mara and Jordan, these two parts will either be altered from their source material to not be siblings, or perhaps an adoption angle will prove the explanation. Mara will appear in Johnny Depp in Transcendence later this year, and also has a regular part on Netflix's House of Cards.

The most controversial casting is Jamie Bell as Ben Grimm / The Thing. The part of Grimm has always been portrayed as a man of large stature who turns into The Thing, and Bell's physique is quite the opposite unless he goes on an eating binge. Bell is a fine actor though with Nymphomaniac, Snowpiercer, Jumper and many other films in his resume.
The Fantastic Four casting tells us that Fox and Trank are willing to be daring in filling these roles and break the common perception of these characters, which may not be a bad thing after the previous live-action films that weren't universally well-received. The casting also skews unusually young meaning Fox is aiming for an origin story that can carry forth into a potential long-running franchise.
Look for The Fantastic Four to stretch its way into theaters on June 19, 2015.