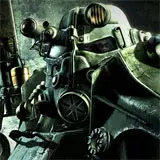 Bethesda Softworks will make some, but not all Fallout 3 addicts happy today with news three downloadable content packs are just around the corner.
All three packs are exclusive to Xbox 360 and the PC with the first pack is scheduled for a January release. Titled Operation: Anchorage, it offers a "military simulation and fight in one of the greatest battles of the Fallout universe – the liberation of Anchorage, Alaska from its Chinese Communist invaders."
The second pack, The Pitt, will arrive in February and is described as, "Journey to the industrial raider town called The Pitt, located in the remains of Pittsburgh. Choose your side."
The final and most relevant pack in this batch, Broken Steel, will land in March. In this pack you will "Join the ranks of the Brotherhood of Steel and rid the Capital Wasteland of the Enclave remnants once and for all. Continues the adventure past the main quest."
The official Fallout 3 editor, G.E.C.K. (Garden of Eden Creation Kit), will be released next month for the PC only.
Pricing for the downloadable content packs will be announced in the coming weeks.