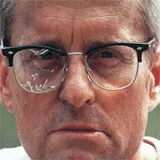 Warner Home Video has confirmed via an advertisement that the Joel Schumacher drama Falling Down starring Michael Douglas will debut on Blu-ray Disc on May 26.
Falling Down will be a part of the growing Digi-book line that is housed in a hardcover case that includes a book with production notes and other goodies about the film.
Warner has not made a press announcement for Falling Down on Blu-ray at this time so we don't have disc specs or bonus features to share. When available we'll be sure to pass them along.
Falling Down on Blu-ray will retail for $34.99. Check back regularly for more information including high resolution cover art that should be identical to the preliminary artwork shown below.