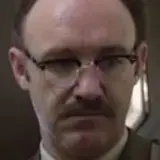 Francis Ford Coppola's 1974 thriller The Conversation starring Gene Hackman and featuring Harrison Ford will make its Blu-ray debut on October 25. One of the bonus features on the disc focuses on the film's electric score, and we've got an exclusive tease of it below.
The clip starts with a disturbing toilet scene with Gene Hackman and then switches to a conversation with David Shire, author of the film's score. Shire discusses how the music was written and evolved during the editing process and why it sounds the way it sounds.
Watch the clip from The Conversation Blu-ray below, and look for the disc in stores next week.